Home
»
yard
The northwest lawn of St. Andrew Church will soon be edible again.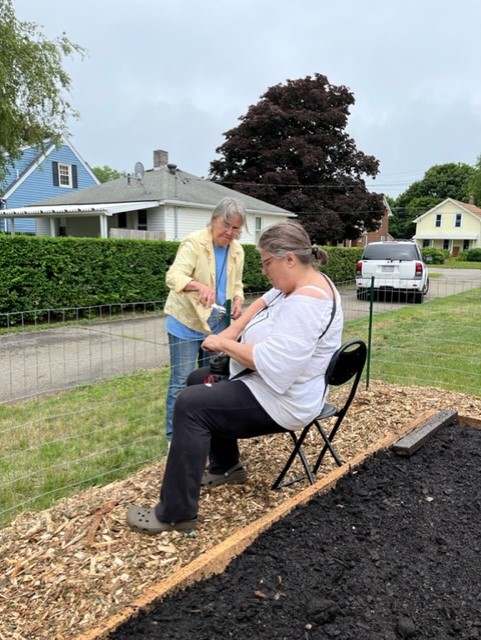 A new St. Andrew neighborhood garden has been planted. Let the growing begin.
Eight raised garden beds with 72 square feet of growing space werebuilt, fenced and planted between June 22 and 28. The enclosure will become a neighborhood vegetable, herb and flower garden courtesy of the St. Andrew Ladies Guild and Knights of Columbus. The guild came up with the idea, is paying for it and suggested a deisgn. Volunteers from both the ladies guild and the K of C helped raise, fasten, rake, shovel and put up a fence.
"I'm all for using these green spaces. This is perfect," Kate Fatter, a tri-parish member, said.
To get the garden started the Ladies Guild contracted with Eat Your Yard, a startup business owner by Tess Frawley of Erie. Frawley said that the St. Andrew project is one of the biggest of the 15 or 20 gardens she has done.
Lisa Austin, who had Frawley set up a small garden in her yard, brought the idea to the Ladies Guild.
"After working with Frawley, I realized Eat Your Yard could be a good idea for Saint Andrew's neighborhood ministry," Austin said.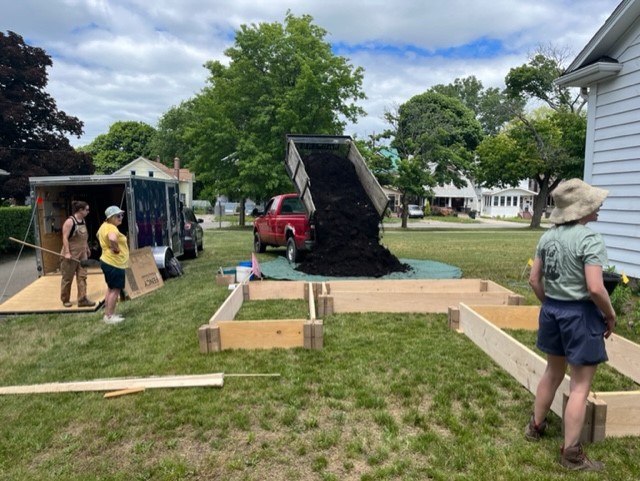 A truckload of leaf mulch compost fills eight growing beds. From left are Camile Madonia, an employee of Eat Your Yard; Evelyn Wesman; and Tess Frawley, owner of Eat Your Yard.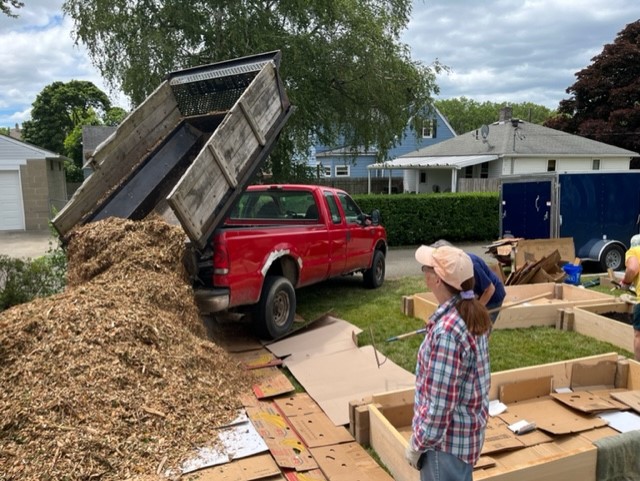 You shovel sixteen tons and what do you get? A truckload of mulch that needs to be shoveled and raked, too. Marlene Ek was ready.
Eight raised beds are in place separated by spongy mulch-covered aisles. There are three big beds of blond wood, each eight feet long. In between are three smaller beds of weathered wood donated by a parishioner. In one corner of the garden stands a wwaist-high box that can be tended without bending or stooping.
Underlying all is a bottom layer of scrap cardboard from the St. Andrew Food Pantry. Spread and raked over that is a thick layer of mulch. The garden beds are also lined at the bottom with cardboard, then filled with wheelbarrow after wheelbarrow of composted soil, black, clingy and claylike. Frawley said it is a leaf mulch compost.
The boards of the large beds slide into the notches of concrete deck blocks to join at the corners. The smaller beds came already hinged at the corners. The whole thing is enclosed with galvanized fence.
Frawley and two helpers planted seeds and seedlings June 28. There are tomatoes and sweet potatoes, sweet peppers, cucumber, kale, carrots, onions, bush beans and herbs. An eighth bed along the west wall of Mary Arundenl Hall will grow butternut squash and small pie pumpkins. Nasturtium, marigolds, milkweed and yarrow are interspersed among the vegetables.
As part of its contract Eat Your Yard will do monthly maintenance on the garden --10 visits in all, once every two weeks. Those are planned for Tuesdays when the St. Andrew Food Pantry operates.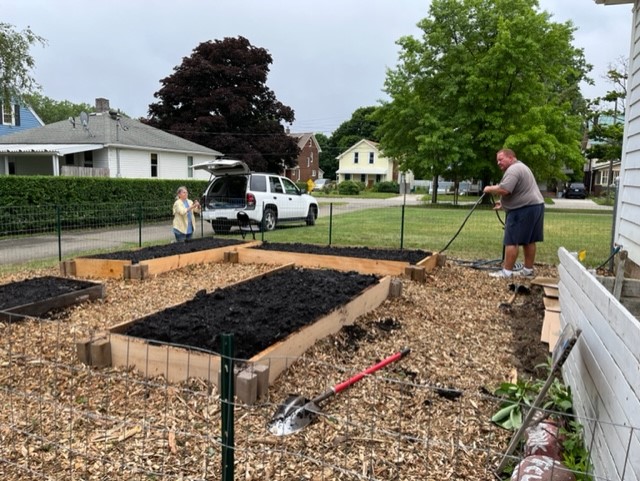 Marilyn Redneius and Jerry Martin (pictured) and others went back to work Saturday, June 24.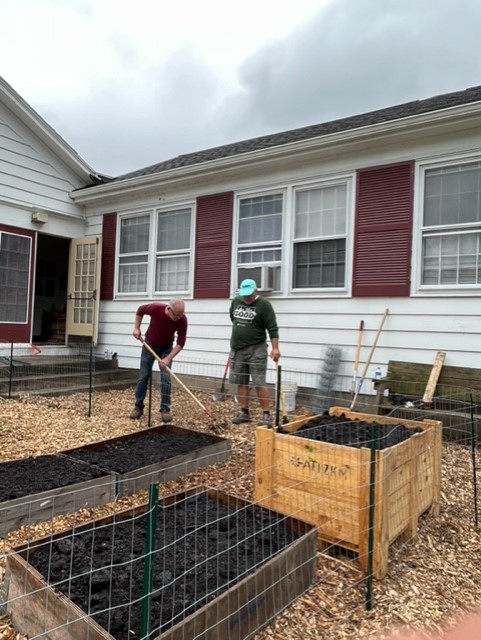 Tom and John Skrzpczak (left and right) leveling the walkways around the garden and the aisles between beds.

Marilyn Redenius, president of the St. Andrew Ladies Guild, said the guild originally talked about giving what the garden grew to the food pantry but learned the food pantry often gets a good amount of fresh produce already.
"I guess what is undecided is to whom and how to distribute the produce," Redenius said. "Some will still go to the patrons of the food pantry."
Possible but undecided: Offering some produce to the church's neighbors or to parishioners after Mass on Sundays. Or, also mentioned but undecided, sharing with two nonprofit social services that rent space from the parish. The Erie Family Center works out of the former St. Andrew School building. White Pine Center for Healing, which counsels and treats people with eating disorders, uses our former rectory.
The garden project will cost more than $3,600. Redenius said a guild member who doesn't want to be identified has offered to pay most of the bill.
Frawley's website, eatyouryard.com, gives a price range of $1,100 to $2,200 for typical home gardens of 30 to 60 square feet done from scratch. The website also has a fee schedule for standard and extra services, a photo gallery and a blog.
In part the St. Andrew neighborhood garden is a rebirth, bigger and with differences, of a shared garden that grew on the same patch of lawn not many years ago. It was named the Souper Garden. Its original sign survives, propped against the west wall of Arundel Hall.
Jim and Kate Fatter, who now worship at Sacred Heart Church, our tri-parish partner, started the Souper Garden. Its purpose was to give users of the St. Andrew Food Pantry a way to grow vegetables for their own tables and, secondarily, to add a soup cook-off to the parish chili cook-offs.
Space then was limited to a swath outside the school fence. Kate Fatter remembered that local businesses including Mason Farms and Gerlach's donated plants for three or four raised beds. Three food pantry users began to grow their own food.
"They were very faithful," Fatter said. "They came they seeded, they weeded, they watered."
The Souper Garden was pre-COVID. Fatter didn't remember what year it started but it lasted during the tenures of former pastors Monsignor Dan Arnold and Father Bill O'Brien, between 2012 and 2020, roughly. Msgr. Dan and Fr. Bill were enthusiastic cooks and soup-making rivals.
The garden's future was clouded when a food pantry user who was not one of the gardeners walked off with much of that season's produce. It might have been stolen knowingly or maybe done through a misunderstanding.
"She gleaned what others had done the work to grow," Fatter said. "She took her shopping cart of tomatoes and off she went."
That left hard feelings and disappointment in its wake. Also, our food pantry workers had no desire to referee disputes or to patrol the garden "likes sentries".
So the Souper Garden didn't end the way its supporters wanted. It bowed out with two partial happy endings, though.
Ken Adams of the food pantry and Frank Necci, the parish maintenance man, kept it alive awhile longer by plowing and planting a 15-by-30-foot tomato patch beside the driveway. The most faithful user of the garden throughout was an African immigrant woman, a food pantry user who had grown vegetables all her life. When the Souper Garden was discontinued, Anita Rogowski, a parishioner, invited the woman to use Rogowski's home garden instead.
As described in her online postings, Frawley started her business with a trailer held together with bungee cords. Her storage space was a leaky garage. A 2020 Kickstarter campagin raised more than $10,000, her goal, which let her buy a trailer and to rent storage for her tools and materials.
Frawley and Eat Your Yard are part of a movement in edible landscaping. It combines the Victory Gardens of World War II with the modern outlook toward the environment, living connected to nature, conserving water, avoiding chemicals, reusing resources and so on.
Gardening isn't the easier of work on limbs and joints but it is good exercise and good for people in other ways. Well-being, a peacful calm, relief from stress --the benefits of gardening are well documented.
"It's spiritual," said Lisa Austin, fastening fence to poles one loop at a time. "In Japan, if you have mental health issues they send you to work in a garden."
(Tokyo has two kinds of urban farming that Americans might appreciate. One, called the "citizens' farm," has tax benefits attached to it to preserve remaining farmland in a city of 14 million. City dwellers rent allotments from farmers and work side-by-side on their plots to grow food for the table and to get bak to nature for awhile. The other, called the "experience farm," is meant to give novices and stressed-out Japanese a pursuit filled with quiet contemplation.)
Catholic religious orders, especially the Sisters of St. Joseph and the Benedictines, are path setters of urban community gardening in Erie.
Through the SSJ Neighborhood Network the Josephites and lay people have seeded Little Italy and beyond. From West 7th to West 19th streets between Myrtle and Walnut streets are raised-bed community gardens, five of them and counting, plus two small orchards. Growers can sell their crops at the Little Italy Farmers Maret from June through September. The SSJ Neighborhood Network also started eastside community gardens on East 22nd and East 26th streets at Parade Street.
Next to the Emmaus Soup Kitchen, 214 East 11th St., the Benedictines and their partners opened the Erie Urban Farm School for neighborhood youngsters. Coordinated by the Penn State Extension Master Gardeners of Erie County, it now has 65 raised beds and fruit trees. Extra food goes to the Emmaus Soup Kitchen and food pantry.
At St. Andrew, our original June 6 start date, announced in a church bulletin insert, had to be postponed for delivery of wood. The ground was prepared and beds laid Thursday, June 22. The fence was put up Saturday, June 24, after a one-day rain delay and another day's delay for arrival of the fencing. After another rain delay, Jerry Martin, a parish council member, made and installed the gate. Eat Your Yard beds planted the beds Wednesday, June 28.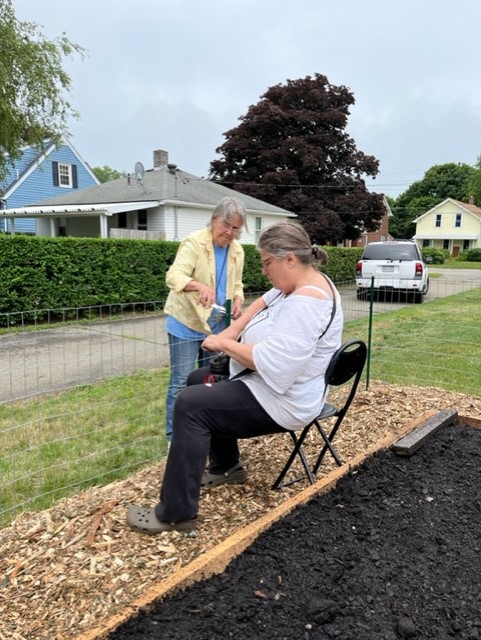 Marilyn Redenius (left) and Lisa Austin attaching the fencing that encloses the garden.
Frawley and her employee, Camille Madonia, unloaded materials, shoveled and raked while supervising volunteers from the parish. They were Marilyn Redenius, Evelyn Wesman, Mary Lou Sima and Lisa Austin of the Ladies Guild, Tom Klemm, Tom and John Skrzypczak from the Knights of Columbus St Andrew Council 14437, Marlene Ek, Jerry Martin and Gary Wesman.