Home
»
christmas mass schedule
Parish Mass schedule for Christmas and New Year's

Our tri-parish Christmas Mass schedule will be:
Christmas Eve — Saturday, Dec. 24, Christmas Vigil at Sacred Heart at 4:30 p.m., and at St. Andrew at 8 p.m.
Christmas Day — Sunday, Dec. 25, at St. Paul at 10 a.m.
Services at all three churches will return to the regular schedule over New Year's weekend for the Solemnity of Mary Masses:
New Year's Eve — Saturday, Dec. 31, at St. Paul for the 4:30 p.m. Vigil.
New Year's Day — Sunday, Jan. 1, at Sacred Heart at 9 a.m. and at St. Andrew at 11 a.m.
The schedule was announced by our pastor, Fr. Mark O'Hern, in a mailing to parishioners. Along with his Advent greeting Fr. Mark enclosed for parish households copies of, "Opening to Great Joy," an Advent booklet of daily Bible verses, reflections, practices and prayers.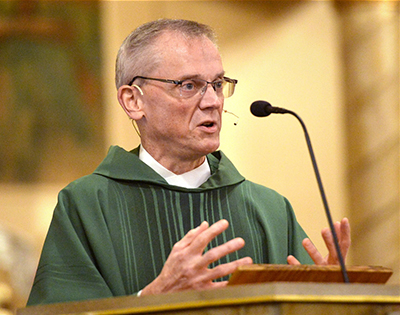 Fr. Mark wrote:
"Christmas is coming...but not before we go through a full 4 weeks of Advent. We hope that Advent finds you well, and able to take some time for prayerful reflection. To aid you in that endeavor we have enclosed an Advent devotional based on the theme of 'Opening.'
'Opening' in the context of Advent should be considered more of a noun than a verb. We are not opening the mystery of God like a present, but rather Advent is an opening into another realm that we can encounter more passively than actively. Think more of a quiet evening with a cup of tea with God rather than shopping sprees and ubiquitous organizational Christmas parties.
As Jesus says in the gospels, tomorrow will take care of itself; the practice of staying in the moment during Advent season will be the best preparation, not just for Christmas but every day.
This year Christmas and New Year's Day fall on a Sunday. Please join us for Mass...
Have a blessed and peaceful Advent and see you in church."
Fr. Mark