Home
»
New Adult Faith group starting six-part series
New Adult Faith group starting six-part series

Written by Gary Wesman
A fellow writer calls Brant Pitre "the Indiana Jones of Catholic theology" because his books are like treasure hunts. With Pitre as their guide via DVD, a new group at St. Andrew Church will delve into Catholic worship for the next six weeks starting Wednesday, Aug. 3, 2022.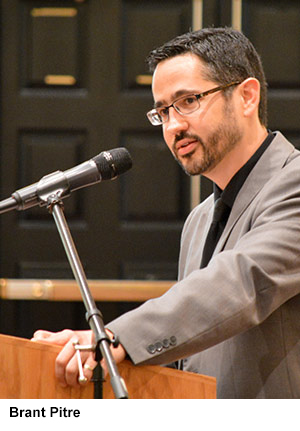 The new group that began in June decided on the name Adult Faith Formation as the best description of where they were heading. Barb Kuhn, a parishioner, called it "not quite a Bible study, not quite prayer group," but involving some of both. "It's kind of a hybrid."
"Most of us haven't had formal religious education since we left high school," Janet Glowaky, a leader of the group, said, "and learning the history and traditions of our faith is fascinating!"
Adult Faith Formation meets every Wednesday at 2 p.m. in Arundel Hall. All are welcome. Reservations aren't needed. St. Andrew has invited our tri-parish partners from Sacred Heart and St. Paul.
On Aug. 3, Adult Faith Formation will start a six-part series built on Pitre's, "Why We Worship." The Catholic Productions webpage says "Why We Worship." is for "anyone who wants to understand what the Bible really says about the mystery and meaning of worship.
"Catholics know what to do at Mass, but not why we do it. And many non-Catholics are confused by the rituals and words of the Mass. Some even think that most of the Mass is just 'made up'---a tradition of men. Nothing could be further from the truth."
Pitre, 47, is from New Orleans. He taught scripture at Notre Dame Seminary in his hometown for a decade, now for the Augustine Institute in Colorado. Probably the best known of his half-dozen books are
Jesus and the Jewish Roots of the Eucharist
, his 2011 hardcover debut, and
The Case for Jesus
, published in 2016. His Bible study CDs, DVDs and YouTube videos number in the dozens.
The Indiana Jones comparison came from fellow writer Brandon Vogt, author of Return:
How to draw your child back to the church.
Anyone with questions about Adult Faith Formation may phone Janet Glowaky at (814) 431-9331.