Home
»
The Story of Joseph
'The Story of Joseph'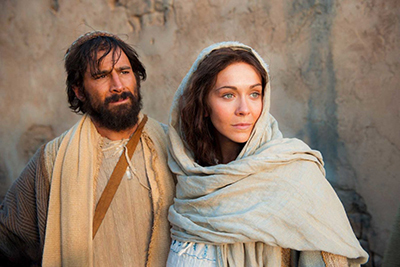 Woodworking was just a hobby for Tony Ferralli of Millcreek when a priest friend asked him to make a chapel altar.
An altar: For a churchgoer who had never made one, this was a daunting request.
"I got thick oak panels, worked on them, had them glued together, until I had a 24-inch-wide slab of oak, eight feet long," Ferralli said. So far, so good, until the priest surprised Ferralli with word the church had an altar stone to be inserted into the top, flush with the wood. And could you have it done by Friday?
Ferralli said he soon realized that every way he knew of to carve an opening for the stone would damage the finished work around it. Ferralli appealed—carpenter to carpenter, layman to saint—to the earthly father of Jesus.
"I started bringing my problem to Joseph: 'Hey, you were a woodworker. I need help,'" Ferralli said. "I worked through the evening and through the night, praying to Joseph, 'If this works, you did it. If I screw it up, I won't mention your name.'"
Long story short: When the insert was done the wood around and below it needed to be refinished. But first Ferralli had to know if the stone fit.
"It held true," he said. "The stone dropped in tight and flush. I couldn't get it back out without a suction cup.
"What took place was so far beyond my skill set, believe me, it was the hand of Joseph."
On the evening of Sunday, Nov. 27, Ferralli will lead a multimedia presentation, "The Story of Joseph," free and open to all, at St. Andrew Church.
The presentation tries to fill in the blanks between what we know of St. Joseph, or think we know, or don't know or know only in fragments. It draws on scripture, culture, the laws the Holy Family lived under, a little geography and, now and then, Ferralli's logic applied to known facts.
The get-together will be in Arundel Hall starting at 6 p.m. Nov. 27 and last about 90 minutes. Light refreshments will be served. So that the refreshments don't run out, those planning to attend are asked to make reservations with our deacon, Ralph DeCecco, before Friday, Nov. 25. Phone (814) 882-9683 or email
deacondececco@aol.com
for reservations.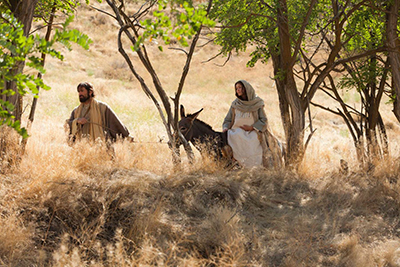 The St. Andrew Ladies Guild tried once before to host this presentation. It was scheduled for May 15 and announced in the bulletin but had to be called off because of time constraints. This time it has been expanded parishwide.
"Once you get into scripture it's like eating peanuts," Ferralli said in a telephone interview. "You can't stop with one. Once you have the first you have to have the second. Then you've got to have a bottle of beer with it."
In the 1980s Ferralli and his wife, Kathryn, underwent midlife turning points when they attended, at the suggestion of a priest friend, a scripture workshop at Franciscan University of Steubenville in Ohio. Tony Ferralli was well along in a career as an industrial engineer, then the military, then as the founder of a computer-based training business.
Until he took that first serious dive into the Bible and Catholicism, "I was your typical Catholic," he said. "I went to Mass on Sunday because I had to. We brought all our kids up Catholic so no problem there. But my knowledge of sacred scripture was what I heard at Mass on Sunday – if I was able to stay awake."
Now semiretired, Ferralli produces a website and blog, catholicfamilyeducation.com. On it are seven PowerPoint Bible studies, video and picture galleries and more than two dozen of his writings on matters of faith. Ferralli posts his articles under the heading, "Musings of a Catholic student."
"We Catholics know the stories. We don't know the
story
. We know who Joseph was from scripture but not a word he ever spoke," he said.
Some of Ferralli's earliest writings are about Joseph, including a three-part series on Joseph's and Mary's betrothal. This Joseph was a man in a crucible of pressures almost as soon as he got engaged.
If their town didn't believe Mary's explanation of her pregnancy – and who would, on first hearing? – "stoning was the obvious result," Ferralli said. "Which left Joseph thinking, 'I gotta get outta town but I've got nowhere to go. I've gotta support her and I don't have money."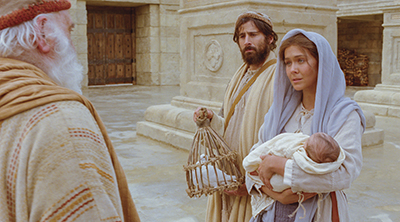 Something Ferralli stresses: Joseph was more than an honorable bystander. That might have been his first intention when he offered to have the marriage quietly annulled but it isn't, Ferralli believes, what Joseph became.
Ferralli draws on Go to Joseph by Richard Gilsdorf, a small book of insights into the hidden life of the Holy Family. It convinced Ferralli that Joseph endured his own Gethsemane, and it lasted about a week.
"He's pondering what to do. . .The child Mary was carrying was something holy, something beyond him. Not so much he thinks Mary hadn't been faithful, but what about this problem: Mary, God and this child? Complete the betrothal with a formal marriage, protect Mary and the child, then bow out. He thought that was the answer until the angel appeared and he saw there was a place for him, too."
Asked what he would most like to know about Joseph on which the Bible is silent or says little, Ferralli answered, "His dedication to the dreams. I would like a fuller look at the dreams Joseph had."
Asked what Joseph might have to say about fatherhood today, Ferralli answered, "He would be shocked at what has happened to the family. He gave everything up for family. Now what are we doing? We give everything up for the almighty dollar.
"Abortion. . .The idea of abortion I think would literally tear his heart out."
Ferralli most recently led a Bible study (on apologetics) at St. George Church. He did his first presentation at St. James Church. He remembers that moment—a beginner doubting he had the knowledge or background for this; also, expecting a small turnout on a wintry January night.
"Surprise, a full parking lot. I thought it must be bingo night," he said.
CREDITS AND COPYRIGHTS—The painting of Joseph and young Jesus in Joseph's workshop, simply called, "St. Joseph," is by Vicki Shuck, Copyright © Saint Mary's Press.
Saint Mary's Press of Winona, Minnesota, publishes Catholic Bibles for teenagers along with handbooks and guides for students of all ages. The digital image of "St. Joseph" may be saved, printed or downloaded for personal and educational (non-commercial) uses. It is used here with the company's permission.
Vicki Shuck has done about 120 illustrations for St. Mary's Press on spiritual themes. She has grouped many of them online in a collection she calls, "Saints and holy people." Shuck lives in Bend, Oregon, with her husband, Gary Vincent, also a painter in acrylics. The Favell Museum in Klamath Falls, Oregon, a museum of Native American artifacts and contemporary western art, exhibits and sells her work. According to the museum's website Shuck has American Indian ancestry through a great-grandmother and is a member of the Klamath tribe.
The photos accompanying this article are from the picture gallery of Ferralli's website and blog. The rights belong to the Church of Jesus Christ of Latter-day Saints (Mormon). They are stills from the video, "The Christ Child," produced by the LDS Church, and are reprinted with permission for non-commercial use.
Tony Ferralli asked me not to identify the church for which he made the altar.